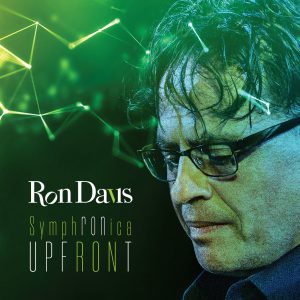 Thursday October 25, 2018
918 Bathurst Centre for Culture – 918 Bathurst St, Toronto M5R 3G5
Doors: 7:00 Music: 7:30
TICKETS (here): $20 advance/ $25 door; students/seniors $10.  (All prices HST included.)
SymphRONica UpfRONt is Ron's 12th and SymphRONica's 3rd collection of his unique, and world renowned sound. UpfRONt, is a quantum leap from his previous works, representing the greater cross–cultural and cross-stylistic diversity of the players and contributors, including Juno Award winner Mike Downes (who also acted as producer). UpfRONt showcases the great Canadian talent that has coalesced in and around SymphRONica. UpfRONt is pure Ron Davis and the entire essence of the SymphRONica project at its peak.
October 25th, 2018 will be the inaugural show of SymphRONica's 2018/2019 season at 918 Bathurst Centre for Culture & the Arts. It will be a celebration of SymphRONica's 6 years working together and coming together to form a unique jazz ensemble unlike any other in Canada or probably the world, and will include a presentation of some of the music from UpfRONt.
Guest MCs: Award-winning composer/ instrumentalist/ vocalist Daniela Nardi and Juno Award-nominated jazz great/ broadcaster Heather Bambrick. 
Special food (light meal)/drinks menu by great Canadian chef Dinah Koo. Thanks to Higgins Event Rentals for their support.
 Tickets & info: bemusednetwork.com.
Ron Davis acknowledges with gratitude the invaluable support of the Canada Council for the Arts, FACTOR and the Ontario Arts Council in the making of SymphRONica UpfRONt.

#Symphronica